Welcome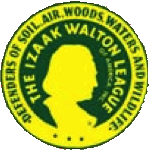 Formed in 1929 as the Association of Izaak Walton League Chapters of Virginia, and then formerly organized in 1944 with nine chapters, the Virginia Division of the Izaak Walton League of America is one of the oldest and largest divisions within the Izaak Walton League of America (IWLA). The IWLA is one of the nation's oldest and most respected conservation organizations. With a powerful grassroots network of more than 250 local chapters nationwide, the IWLA takes a common-sense approach toward protecting our country's natural heritage and improving outdoor recreation opportunities for all Americans. The Virginia Division has 18 chapters and over 7,000 members. Our conservation legacy in Virginia continues today as strongly as it did over 82 years ago. We invite you to learn about our work and to join us in supporting important conservation initiatives in your community.
Virginia Save Our Streams Training Available
VA Save Our Streams (SOS) is a fun way to test water quality by collecting and identifying underwater insects, called macroinvertebrates. The Izaak Walton League of America is working with the Virginia chapters to provide a workshop for those who wish to become a certified VA SOS Monitor. Visit http://www.vasos.org/ for more info about VA-Save Our Streams. The Izaak Walton League of America is holding the following training sessions in Virginia:


September 9 @ Arlington-Fairfax Chapter Register
September 16 @ Fredericksburg-Rappahannock Chapter Register
Creek Freaks Training Available
Creek Freaks training equips educators with the knowledge and skills to deliver fun and effective watershed education lessons to youth. Join us for a one day workshop where we will explore exciting hands on lessons and curriculum, and venture outside for stream monitoring training!

Creek Freaks introduces participants to a basic overview of stream ecology, guidance on how to manage the logistics of conducting on-going youth programs, and hands-on training in conducting activities from the Creek Freaks curriculum, including hands-on classroom activities and biological, chemical, and physical SOS stream monitoring in the field. Participants will also learn how to use the interactive website www.creekfreaks.net, which allows educators and students to post data, photos, videos, and stories about their streams. For more information please visit our website at www.creekfreaks.net.

The Izaak Walton League of America is holding the following Creek Freaks training sessions in Virginia:
October 14 @ Fredericksburg-Rappahannock Chapter Register
IWLA Signs for Chapters are Available
The Izaak Walton League of America has made available several styles of high-quality roadside signs for your chapter's use.

IWLA Seals in 18- and 30-inch diameter signs and a double-sided 18-inch sign and bracket are available. Custom-Made Auxiliary Signs, available in three sizes, are normally displayed below the IWLA Seal to show more details (e.g., chapter name, meeting date, time, location, and Web site). All are:
Fully reflectorized signs in green and yellow on full, hard alloy aluminum (.068 gauge)
Meets or exceeds Federal road sign standards
Pre-drilled for appropriate means of display
...
Download the Order Form.
.
A Request for Support to the Virginia Division

The Izaak Walton League of America requests a contribution of $10,000 to support the Virginia Save Our Streams program. Virginia Save Our Streams (VA SOS) engages more than 500 volunteers across Virginia in monitoring water quality of hundreds of streams. VA SOS provides valuable data to the Virginia Department of Environmental Quality that allows the agency to identify and address pollution problems in a cost-effective manner. VA SOS volunteers also use their own data to prioritize sites for restoration, educate the public about pollution sources and prevention, and to evaluate the success of restoration projects. Support from the Virginia Division will allow the Izaak Walton League to hire a highly qualified contractor to train and certify both volunteers and regional trainers. In addition, it will support League staff in continuing to promote and coordinate the program, manage the database of volunteers and of water quality information, work with agency partners, secure necessary scientific collection permits, update the quality assurance plan for the program, and seek opportunities for program expansion.

... Read Full Request to Virginia Division to assist supporting S.O.S..
Virginia Letter on Clean Water Rule
According to the 2011 National Survey of Fishing, Hunting and Wildlife-Associated Recreation conducted by the U.S. Fish and Wildlife Service every five years, Virginia's 3.3 million sportsmen, women and wildlife enthusiasts spent approximately $3 billion in 2011 on outdoor pursuits. The economic contributions from hunting, recreational fishing and wildlife watching have continued to grow over the past several decades.

... Read Letter on Clean Water Rule sent to Virginia's US Senators.
Northern Virginia Gun Club Supporters
A last minute amendment has been added to the proposed 2015 Virginia budget. This amendment would add $520,000 to the budget to acquire the Dahlgren Heritage Railroad Trail under the Natural Resources, Department of Conservation and Recreation. Should this occur, continued use of the existing NVGC ranges would be impossible. These ranges have been in operation for many years, but that won't matter if this amendment is included in the 2015 budget.

Please contact your State Senators and Delegates. Ask them to oppose the 2015 Budget, Item C- 25.55, Acquisition of Dahlgren Heritage Railroad Trail.

The 2015 budget will be passed in the next few days, so action is required now. The future of the NVGC is threatened. Only your action can save the club.

... Read more.
Natural Bridge; a Virginia State Park
Virginia's Natural Bridge and surrounding property were recently sold. The owner has sold Virginia's Natural Bridge to a conservation group which wil turn it over to the Virginia State Parks system. The Virginia Division of the Izaak Walton League of America will be recognizing the efforts of those involved with saving this Natural Wonder at their April 2015 Division meeting. To learn more about this Natural Wonder, please continue onto this Fox News article: Fox News.
Notice for Chapters
The National IWLA has but one Tax Determination Letter and that is for a 501c3. Back once upon a time all chapters who joined the league were placed under this Umbrella letter. This determination is National IWLA ONLY and the Virginia Division has nothing to do with how they administer it. If your Chapter is under this Umbrella Coverage you must take the 5 steps to keeping your tax exemption yearly. Or they will pull the letter and remove your chapter. Those steps are listed in the information section of this web site along with notes from our Division President on important filings for Chapter 501c3 Status.
Become a Member and Get Involved
The Izaak Walton League of America has more than 250 chapters nationwide. If you wish to join the IWLA, please apply at a chapter near you. You can find more information about the various IWLA chapters across the United States of America within Chapter Search area on the IWLA website.
For further information on membership at one of the Virginia chapters, please feel free to contact one of our Virginia chapters. The contact information for each of our chapters can be found in the Chapters section of our web site. If you want to learn more about some the activities and accomplishments of the chapters that make up the Virginia Division during our 82 year history, please read our division's history.
Thank you for your interest in the Virginia Division of the Izaak Walton League of America.
Division Meeting Attendance Incentive
The Virginia Division is subsidizing one chapter in Virginia that has not sent a delegate to the National Convention in the past ten years. Plan to attend Virginia Division meetings to be allowed to vote for the next Virginia chapter to receive a subsidy to attend the National Convention.